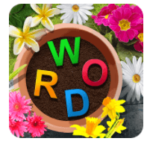 Key points :
All 99 available worlds are solved.
You can from here navigate to current world, chapter and then level.
Garden of Words is a puzzle game for Android that makes learning fun! Explore the world of crosswords in a new style and take the adventure to solve puzzles, beat challenges, and win awards and prizes to enhance your gaming experience.
Take the time to go through the levels and test your vocabulary, and intelligence with these simple yet complicated puzzles. It is a great way to train your mind and stimulate it on a daily basis. In this section of the article you can find all the answers for all the levels so far achieved. Our team has worked hard to compile all the needed information to be able to discover the words and crack the anagrams.
Garden of words answers
This OS rated with a 3+ mark along with more than 10M downloads from Play store and approximately about 4.2 reviews, it is with no doubt that it has won the hearts of many loyal players and has proven itself a successful strategic game. Ameliorating your English vocabulary has never been more fun and easy with Garden of Words. It is very simple and accessible to everyone; it has an original layout with themes and graphic backgrounds that renders your gameplay astonishingly entertaining. The game is already vibrant with colors and contains a cozy atmosphere that will upgrade your experience with puzzle games and boost your attention level.
Android download link : Garden of words
If you have any feedback, please comment down below your thoughts we would like to hear it.
Thank you