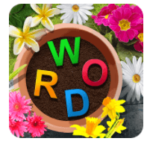 Key points :
We completed this level.
This topic will provide you directly the answers of this level.
In this part, we will deal with the first levels of episodes in World 9 Chapter E Level 20 from Garden Of Words by Iscool Entertainment . The levels are divided into worlds; for the first World you have different chapters enlisted in Alphabets. You have to complete each chapter separately in order to unlock the next world. At first they start off easy especially with the hints and clues but when leveling it will get a bit challenging. You will have in this game to find words and place them in the crossword . The game is using a well known anagram template but is more beautifull than other gamer. A must Try ! I prepared all the answers, so you can solve easily your current level.
Garden Of Words World 9 Chapter E Level 20 Answers:
Features:
– Simple and accessible: slide your finger on the letters to make a word.
– Original and fun: the crossword puzzle gives you hints about the words you can find.
PS: if you are looking for another level answers, you will find them in the below topic :
Version 1 :
SAGA
GAS
GAMMA
GAMMAS
MASA
MAGS
MAGMA
MAMA
Version 2 :
DIETERS
DESIRE
DESERT
TIRED
TRIED
SEE
REST
Down below you will find all the cheats clues and hints compiled by levels. The following link includes the answers for Garden Of Words 9 E 20.
If you have any suggestion, please feel free to comment this topic.