You can find here the answers of WOW Guru, the game is new and appeared on android and ios early this month. This classic word game is good and simple to play ! The only problem with it is that sometimes some words are hard to find. Word Crossy combines word search and crossword style games. By Connecting letters, you get a complete word and fill it into a crossword blank. This is only the first step! If you want to win, you still need to find all the words hidden in the crossword. Challenge yourself and train your brain.
WOW Guru Answers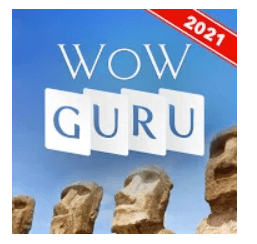 Words of Wonders: Guru is the latest next generation word game by Fugo Games for +100m audience spread over all continents. Take your time to enjoy the most relaxing backgrounds of nature and historical places when you move your way up through the wonders of the world!
EGYPT:
France:
CHILE:
SPAIN:
TURKEY:
JAPAN:
RUSSIA:
NORWAY:
GERMANY:
ITALY:
CHINA:
INDIA:
BRAZIL:
USA:
SOUTH AFRICA:
SWEDEN:
AUSTRALIA:
SOUTH KOREA:
TAIWAN:
SWITZERLAND:
PORTUGAL:
POLAND:
GREECE:
ARGENTINA:
MALTA:
MEXICO:
ENGLAND:
FINLAND:
COLOMBIA:
ROMANIA:
NETHERLANDS:
KAZAKHSTAN:
I hope we helped you solve the game wow guru!
Feel free to comment on this topic if you have any doubts or suggestions.
Thank You
Michael