NYT Connections #109 is a captivating challenge that tests our mental agility. These meticulously crafted puzzles offer more than just a brain teaser—they open the door to a vibrant community of puzzle enthusiasts.
As we explore the intricacies of  Connections NYT September 28 2023 , we discover that solving them is more than just finding answers. It is also about the journey we take, the strategies we employ, the unexpected surprises we encounter, and the shared experiences that bind us as a community.
Whether you're an experienced puzzle solver or a novice eager to learn, our topic promises to provide valuable insights and tips to enhance your puzzle-solving skills. We will also provide NYT Connections #109 answers so you can check your work and learn from your mistakes.
So, let's embark on this exciting journey together. As we unlock the mysteries of these puzzles, we also forge connections with a community that cherishes the thrill of problem-solving. Let's dive in, shall we?
New To NYT Connections?
Think outside the box as you search for connections between words. Over 100 puzzles to solve, there's something for everyone.
How to Play Connections:
Select 4 words that share a common theme.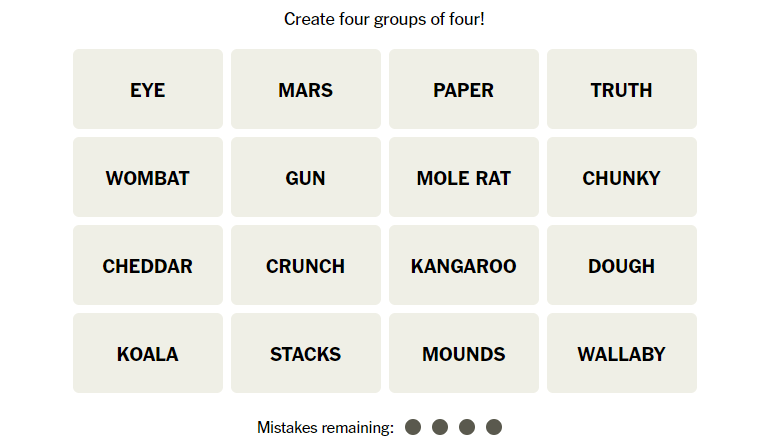 The words are already displayed to you.
Each group has a difficulty level, color-coded yellow to purple.

**Yellow:**

🟨

Easy
**Green:**

🟩

Medium
**Blue:**

🟦

Hard
**Purple:**

🟪

Very Hard
You have 4 mistakes per day.
Additional tips :
Use the 'Shuffle' button if you get stuck.
Pay attention to the difficulty level of the group.
Think about the theme of the group when making your selection.
Connections NYT #109 September 28 2023 :
REFLECT LIGHT
FLASH, GLEAM, GLITTER, SPARKLE
WAYS TO GATHER FOOD
FISH, FORAGE, HUNT, TRAP
RAP SUBGENRES
BOUNCE, CRUNK, DRILL, GRIME
LIGHT ___
BEER, BULB, RAIL, YEAR
For your convenience, we've compiled a list of links to the daily answers for the NYT Connections game. These links will take you to the  Connections Nyt daily answers . This archive can serve as a valuable resource for understanding the types of themes and answers that typically appear in the game.
Conclusion:
The NYT Connections game is a fun and challenging way to improve your word association skills. With its unique daily themes and answers, you'll always have a fresh puzzle to solve. Whether you're a seasoned player or just getting started, our daily guide can help you stay ahead of the game. So what are you waiting for? Start playing today!
Have fun!