Appeared recently in the play store, the game Escape Room Mystery Word developed by Worzzle Team, had the same spirit as Words Story, funny concept that combines Escape Room and Word Search Game. You have to find some words according to the hints available on the screen. Hints could be a paper, a picture or some shapes that reflets a word. A unique one !
Thus said, I have to mention that you have to scan visually the room and click on some items before to open the keyboard located next to the door ( like in the picture ):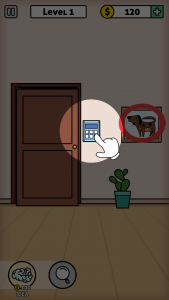 And, this is the keyboard :
We have played this game and collect all the correct answers to help you with this amazing game.
Escape Room Mystery Word Answers
Answers are provided in two ways ( by level and by clue ), the game is sometimes shuffling the appearance of the stage between players, so if your level will not match with mine, you can find it in the list of clues :
Answers By Level ( Recommended Choice ):
Answers By Clue :
Congratulation, we have succeeded to escape from these rooms:)
Don't hesitate to comment this topic if you have any doubt or question.
Thank you.
Michael.