Word Cats Level 1559 [ Answers and Cheats ]
If you come from the topic that talks about Word Cats Level 1558, then you are on the right one that will help you for sure to achieve without problem the next one : Word Cats Level 1559. The game is a kind of a classic word game where you have to swipe between letters to form words. These words should be valid and are splitted in too kinds : Requested Words and Bonus Words.Since you are here, you will find all the answers and bonus words I encountred. If you find others, please do not hesitate to tell in the comment in order to add it to the list.
Developer says :
Now! Just DOWNLOAD the game Game and train your brain for Free! Enjoy the New Puzzle game

HOW TO PLAY :
· Simply swipe letters to line up different words. You can swipe the letters horizontally, vertically, diagonally, forwards or backwards.
· Invite Friends and get more coins, you can use coins for passing level easily.
· You Can Unlock Special Levels Each 5 Levels. Moreover, You can unlock the story of the two Chef Cats after you pass Level 50.
Word Cats Level 1559 Answers:
PS: if you are looking for another level answers, you will find them in the below topic :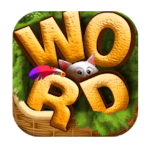 ADO
ARM
BAD
BAR
BOA
BRA
DAB
DAM
MAD
MAR
MOB
OAR
ORB
RAD
RAM
ROB
ROD
BARB
BARD
BOAR
BOMB
DRAB
ROAD
ROAM
BOARD
BROAD
BOMBARD
If the current level became a part of the past, you can open from now the next topic to get some help if you are stuck on some words : Answers for Word Cats 1560.
If you have any suggestion, please feel free to comment this topic.
Thank you
Michael