After solving Chapter 9 PPcrossword, We will start today with PP Crossword Chapter 10 answers, this game was developed by AppyNation Ltd. the famous developer known in word puzzle game.
The game has 36 Chapters, each one contains many crosswords built with pictures. Many answers are easy to find but everybody could stuck in one or another pic.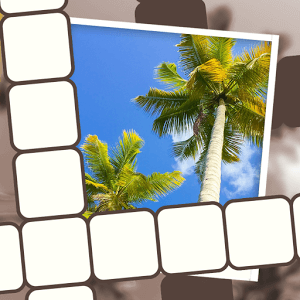 Game Features :

Crosswords with a twist!
Hundreds of puzzles – with more to come!
Instant hints – get a little help when you need it
Connect to Facebook to carry on playing on your other devices
Play every day!

Enjoy a new crossword game where every clue is a unique picture!
You can check this post for another chapter :
PP Crossword Chapter 10
#126: COW; CHICKEN; TURKEY; SHEEP; DOG; PEACOCK; BLUETIT; ELEPHANT; RHINO; CAT; RACOON; TORTOISE
Complete The Category : Rear of the Year
#127: TEA; COFFEE; COCOA; LEMON; COLA; MILK; GINGER; ORANGE; MALT; YOGURT
Complete The Category : Drink Ingredients
#128: TRAFFICCONE; UMBRELLA; CROWD; FOREST; COFFEE; BOWL; MEETING; GOLFCOURSE; PENCILS; PICNIC
Complete The Category : Aerial View
#129: WHISTLE; TALK; SING; DRINK; KISS; POUT; SHOUT; WHISPER; SCREAM; EAT; LICK
Complete The Category : Use your Mouth
#130: HAPPY; FRUSTRATED; SURPRISED; SHOCKED; ANGRY; SAD; SHYNESS; GUILTY; EMBARRASSED
Complete The Category : Emotions
#131: RAILROAD; BUMPERCARS; BIGWHEEL; WATERRIDE; COASTER; LOGFLUME; CAROUSEL; TEACUPS
Complete The Category : Theme Park Thrills
#132: NACHOS; TORTILLAS; BURRITOS; ENCHILADAS; GUACAMOLE; REFRIEDBEANS; TACOS; SALSA; TAMALES; CHILI
Complete The Category : Mexican Food
#133: POTATOSALAD; SAWLTPOATDAO; HUMMUS; QUINOA; LETTUCE; CROUTONS; PEPPER; REDONION; OLIVES; SWISSCHARD
Complete The Category : Salad Bar
#134: NOSE; FORK; BASEBALL; RICE; SPAGHETTI; PEN; CHAIN; EYE; DOLLAR; FLY; ORANGE
Complete The Category : Extreme Close Ups
#135: PENALTY; CORNER; HEADER; CROSS; TACKLE; KICKOFF; GOAL; FREEKICK; VOLLEY; HANDSHAKE; THROWIN
Complete The Category : Soccer
#136: KEYS; AFTERSHAVE; BLACKBOOK; FLASHDRIVE; TIE; WALLET; PHONE; LIPBALM; CREDITCARD; NOVEL
Complete The Category : Man Bag Contents
#137: NUTMEG; CHIVES; BASIL; PARSLEY; ROSEMARY; THYME; LEMONGRASS; GINGER; MINT
Complete The Category : Herbs and Spices Galore
#138: RICE; SALMON; WASABI; MIRIN; TUNA; SOYSAUCE; NORI; ROE; DAIKON; PRAWN
Complete The Category : Sushi Ingredients
#139: ONIONS; MILK; PEPPER; MUSTARD; SAGE; GROUNDBEEF; EGG; BROWNSUGAR; KETCHUP; BAKINGDISH
Complete The Category : Meat Loaf Recipe
#140: TOWN; CITY; FARMHOUSE; SLUM; VILLAGE; METROPOLIS; SUBURB; FAVELA; TRAILERPARK; COMMUNE
Complete The Category : Places to Live
#141: STAR; GALAXY; SOLARSYSTEM; ASTEROID; MOON; PLANET; MILKYWAY; NEBULA; REDDWARF
Complete The Category : Deep Space
After solving PP Crossword chapter 10, you can jump to picture perfect crossword chapter 11.
Feel free to comment this topic if you have any doubt or suggestion .
Thank you.
Michael.