After solving Chapter 8 PP crossword, We will start today with PP Crossword Chapter 8 answers, this game was developed by AppyNation Ltd. the famous developer known in word puzzle game.
The game has 36 Chapters, each one contains many crosswords built with pictures. Many answers are easy to find but everybody could stuck in one or another pic.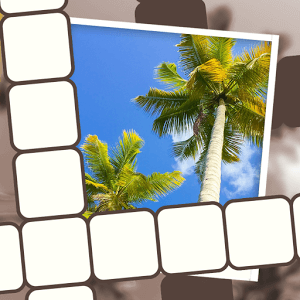 Game Features :

Crosswords with a twist!
Hundreds of puzzles – with more to come!
Instant hints – get a little help when you need it
Connect to Facebook to carry on playing on your other devices
Play every day!

Enjoy a new crossword game where every clue is a unique picture!
You can check this post for another chapter :
PP Crossword Chapter 8
#094: FROG; NEWT; TOAD; FISH; ALGAE; LEECH; DRAGONFLY; BEAVER; OTTERS; WORM; SHRIMP
Complete The Category : Pond Life
#095: SALTPILLAR; OCEAN; FOREST; PLAIN; ISLAND; RIVER; GLACIALLAKE; VALLEY; AURORA; MOUNTAIN; CLIFF
Complete The Category : Natural Geographic
#096: PHOTOCOPIER; SHREDDER; TELEPHONE; FAN; ROUTER; COMPUTER; PRINTER; PROJECTOR
Complete The Category : Office Machines
#097: COMPASS; EPHEMERA; CHAIR; PORCELAIN; TEDDYBEAR; WATCH; CLOCK; KEY; DOLL; SILVERWARE
Complete The Category : Antiques
#098: LIPSTICK; BRUSHES; PERFUME; MIRROR; NOTEBOOK; TISSUES; MONEY; TABLET; MASCARA; POWDER
Complete The Category : Handbag Contents
#099: SWING; SEESAW; PADDLINGPOOL; SLIDE; TREEHOUSE; CLIMBINGWALL; ZIPWIRE; BLEACHERS; MAZE
Complete The Category : Playtime
#100: SHORTS; HAT; SUNGLASSES; PASSPORT; SUNCREAM; BOOK; SANDALS; SHIRT; SUITCASE
Complete The Category : Vacation Packing
#101: BINGO; CRAPS; LOTTERY; SCRATCHCARD; SLOTS; ROULETTE; BLACKJACK; POKER; BACCARAT
Complete The Category : Casino Games
#102: POP; ROCK; HIPHOP; JAZZ; BLUES; CLASSICAL; RAP; FOLK; COUNTRY
Complete The Category : Musical Styles
#103: DATE; SATSUMA; QUINCE; NECTARINE; DURIAN; DAMSON; POMEGRANATE; MULBERRY
Complete The Category : Tutti Frutti
#104: TOWER; CUPOLA; BALCONY; PLINTH; SPIRE; COLUMNS; OCULUS; CHIMNEY; BUTTRESS; VAULT
Complete The Category : Architectural Delights
#105: TREE; CAROLS; TINSEL; SNOW; LIGHTS; PRESENTS; MISTLETOE; SANTA; REINDEER; FRUITCAKE
Complete The Category : Christmas Time
#106: MOBILEPHONE; TABLET; CALCULATOR; SMARTWATCH; BINOCULARS; EREADER; CAMERA; WEBCAM
Complete The Category : Gadgets Galore
#107: SHOVEL; MOWER; FORK; RAKE; SPADE; GLOVES; TROWEL; WATERINGCAN; HOE; LOPPERS
Complete The Category : Get Gardening
#108: ROW; AEROBICS; STEP; DANCE; SITUPS; JOG; SWIM; SKIP; CYCLE; WALK
Complete The Category : Keep Fit
#109: CAKE; DRINKS; MUSIC; DANCING; SNACKS; LIGHTING; BALLOONS; PRESENTS; INVITATION
Complete The Category : Party Time
After solving PP Crossword chapter 8, you can jump to picture perfect crossword chapter 9.
Feel free to comment this topic if you have any doubt or suggestion .
Thank you.
Michael.