Just 500 Riddles Answers and Cheats – All levels
This topic will contains full answers and cheats that will help you to finish the game Just 500 riddles developed by Knowledge quiz games, the game is available for ios and android devices. You will have in this game to find the correct answers for the available riddles. You need to find at least 4 answers per level to unlock next one !
Just 500 Riddles Answers: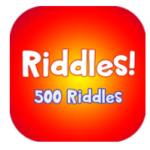 Developper Says :
Beat this game and you will be smarter!
Has Logic riddles puzzles and brainteasers! 500 riddles!
Great to play for kids and adults. Also with friends and family.
You need to exercise your brain muscle regularly.
Tons of riddles to boost up your brain power!
Some are easy, some are tough! Some will rhyme, and some laugh!
– Tons of riddles
– Think? Every riddle comes with options!
The game is now finished, we hope that we have helped you to find missing words. you can comeback to gameanswer to check answers for other games !
Regards,