Heardle Answer today January 25, 2023
Of all the Wordle style puzzles you'll come across, Heardle is one of the funniest. This simple puzzle game is all about music. More specifically, it asks the player to guess a song based on the introduction. You have six attempts to do this, and each clue reveals more and more intros.
Some people can guess certain songs from the first second, while others may need more to continue. So The song changes daily, from well-known rock classics to lesser-known single wonders.
Heardle is more of a question and answer game than similar games, so a certain level of knowledge is required. If you like music, this is a great way to train your ears. You'd be surprised how much you can get out of a one-second sample.
So to help you out, we've prepared a note for Today's Heardle resolution. If you just want to know the answers, we have them too, along with last week's playlist, so let's start.
As for Waffle, the game offers only one game per day.
So Let's get some hints for Heardle 333 Answer Today :
1: The song was released in 2005
2: The Song's genre is Synth-pop ,Electronica , Electro pop , Industrial
3: Single by Billie Eilish
4: Length – 3:13
5: Three words
6: Album : When We All Fall Asleep, Where Do We Go?
Heardle Answer today January 25, 2023 :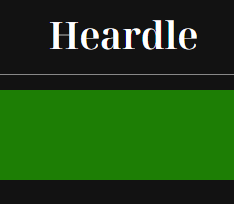 PS : You can also comeback to the main topic : Heardle answers by clicking on this link.Here is the answer of this day :
Bury a friend by Billie Eilish
This day is finished, so it is possible to be prepared for the next music, just check this topic : Heardle answer today January 6 2023
If you have any suggestion, please do not hesitate to comment on this topic.
Thank you for the visit.
Michael