Escape Alcatraz Level 101 to 200 [ Answers and Cheats ]
You Will find in this topic the answers of Escape Alcatraz Level 101 to 200, the game is developed by Great Puzzle Games and its aim is to fulfill the blank tiles with words available at the tray and using the available hint. We have solved here another one hundred levels and provided too many bonus words that will help you in your quest !
Escape Alcatraz Level 101 to 200 Answers :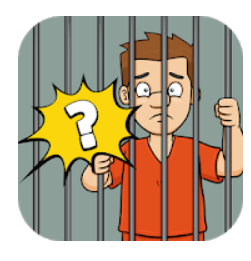 Escape Alcatraz is an addictive word game to help Peter break out from Alcatraz. Peter was sentenced to life imprisonment for murdering his wife. In fact, he didn't do anything to hurt his wife. He is innocent, you need to help him survive and break out the prison. In prison, he met with a lot of difficulties, such as tortured by cellmate's purr, molested by gay prisoners, survive during gangs fight, etc. There are also good things for him, e.g. flirting with the pretty doctor.

On each level, you need to guess the word based the clue in the picture. Simply click to type the answer to finish the level.
Thanks for your visit.
Bye
Michael