10×10 Word Search is a new crossword game created by second gear games , the well known developer , we will start today with 10×10 Word Search Level 19 all answers and hints .
How To Play :
Take a look at the photo, then start searching for the words. You can tap the picture to zoom in for a closer look. Slide your finger through the letter grid to make the word. Use the help button if you get stuck.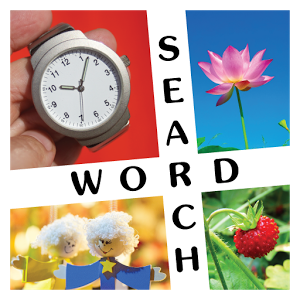 Features :
• Fun word search puzzles with picture clues.
• Play in English, French, German, Russian, Italian, Spanish or Portuguese.
• Look at each photo clue then search for the related words.
• Letter grid adjusts automatically to your device.
• Clean colorful look.
This is an amazing and addictive crossword game , everyone can stuck in one or another level so we provide you the hole answer to find in 10×10 Word Search , every level is enhanced with picture ( click to enlarge ) .
10×10 Word Search Level 19 Answers and hints

Level 19-1 :
Mother
Nativity
Magi
Hay
Manger
Baby
Sheep
Dog
Religion
Crib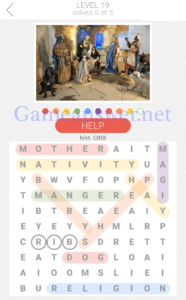 Level 19-2 :
Bird
Feathers
Talons
Beak
Raptor
Peregrine
Fence
Falcon
Wings
Predator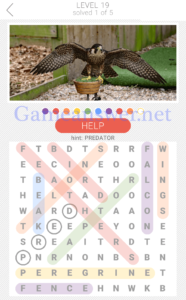 Level 19-3 :
Plants
Clouds
farm
Garden
Wagon
Wheels
Sunflower
Bucket
Bran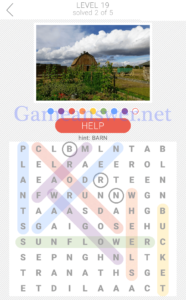 Level 19-4 :
Pink
Dessert
Ring
Woman
Earrings
Cookies
Blonde
Roses
Sugar
Apron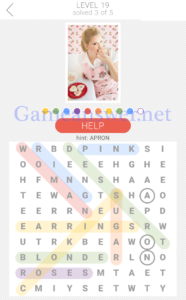 Level 19-5 :
Knife
Tomato
Spinach
Pancake
Eggs
Bread
Napkin
Slice
Fork
Sausages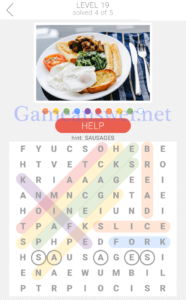 That was all you need to solve the game 10×10 Word Search Level 19. If you are stucked in the 10×10 Word Search Level 20, you can follow us for next update.
You can find the game in the download link for play store.
If you have any doubt or suggestion, please feel free to comment this topic.